Spare Parts
Last update: November 2019
Updated club-spares info from Derek, our spares secretary.
The club spares project has now been running for eight years and has proved to be very popular with our members. Over the years, and with their enthusiastic support, we have now sourced and manufactured an extensive amount of stock. We are now probably the largest supplier of A40 Farina parts (in the world!!) and, with virtually no overheads, are usually the least expensive. We also supply reconditioned parts (on an exchange basis) and are constantly researching additional spares re-manufacturing projects. We send to both the UK and overseas destinations almost daily.
Although we only sell to members the club's low club annual subscriptions makes joining a worthwhile investment. It is no coincidence that club membership has increased steadily during recent years. Parts and initial joining fees can be paid for by credit/debit card.
We hold such a large selection of parts that it's impossible to list all here but below is a list of our more popular items:
BODYWORK
We have expanded our range of parts re-manufacture to include body repair sections, all made specifically for the club. Those now stocked include:
Mark 1 and 2 outer sills - pressed to OE specification. BLA1676, BLA1677 and BLA2048, BLA2049
Front valance. BLA1596
Front wing lower rear sections.
Mk 1 & 2 Rear wing repairs sections covering the front and repair lower areas and the wheel arch.
Inboard below light cluster repair fillets.
Mark 1 and 2 Grille support channels. BLA1572 and BLA1994
Mark 1 and 2 Rear valances. The Mark 2 can include the cross member. BLA1600 and BLA1988
Saloon boot lid skins. BLA2053A
Mark 2 saloon boot lid inner frames.
Front and rear floor pans.
Inner sills.
Front apron/cross members.
We also have an offsite store containing second hand doors, bonnets and other large items.
---
Although stocks vary considerably we now hold a selection of New Old Stock (NOS) body parts:
front aprons and front bulkheads
Mark 2 sills
a Mark 1 bonnet plus some rear wings and quarters and some bumpers.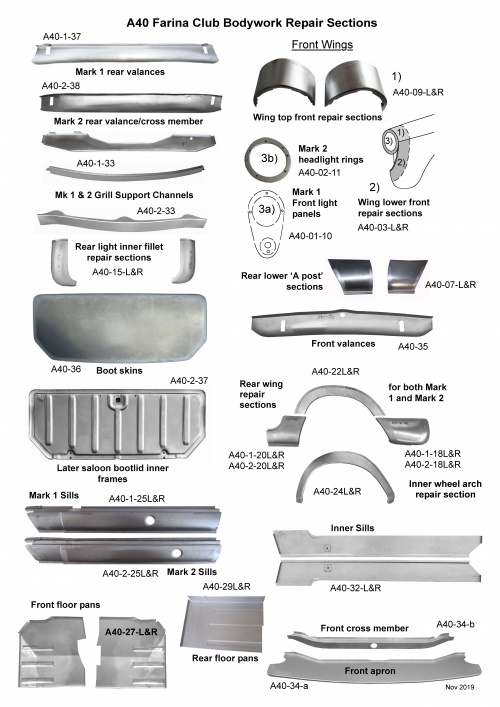 REAR SUSPENSION

U-bolts, bushes, shackles and pins. Wheel bearings.
Exchange lever arm dampers and new telescopic.
Rear spring recommendations via our supplier who offers a 20% discount to club members.
STEERING
New and s/h drag links, both fixed and adjustable. New and s/h steering idlers, Mark 1 and Mark 2.
Good condition second hand steering columns and replacement seals.
ELECTRICAL
Dynamos and starter motors. Control and fuse boxes. Wipers/arms and motors. Lamps and headlights.
---
RUBBER SEALS
We have had a number of rubber seals and other items re-manufactured for stock. These include:
Saloon and Countryman rear screen seals. 14A5623 and 14A7218
Rubber plugs for jacking point. 14A5571
Front quarter light rubber seals assembled from multipart rubbers sections and mouldings.
Rear opening side window seals made to the correct original cross-section.
Saloon boot lid seals made to the correct original cross-section. Countryman solutions also available.
Mark 2 headlight rubber gaskets produced. 13H516. Mark 1 also available. 2A9115
Door rubber seals (bought in bulk quantities).
Cylinder repair seals and brake hoses (bought in bulk quantities).
DOORS
The club has had the following parts made:
Window channel sets. 14A5626/14A5627 and 14A9855/14A9856
Window weather strips. 14A5613/14a5614
Steel channels, bottom of glass. Mk1- 14A5707 and Mk2- 14A8267
Front quarter light rubber seals, a multipart kit assembled from rubbers sections and mouldings.
We also have locks, handles, mouldings hinges and clips available.
QUALITY SERVICING PARTS

We have learnt from experience that a number of the servicing parts on the market are of dubious quality and for that reason we now stock the following:
Champion Plugs, Condensers (yellow wire type), Points (fibre heel type)
Rotor arm (red no rivet type), HT lead sets (copper wire), Oil and air filters
ENGINES and GEARBOXES

We stock timing chains, seals, sensors, gaskets and most ancillaries.
Reconditioned units are available from specialist suppliers.
CLUTCH
Borg and Beck 3 part clutches. Master cylinders and slave cylinders.
Replacement (copper) pipework. Pedal rubbers.
BRAKE PARTS

The club supplies re-sleeved (with stainless steel) front wheel brake cylinders (sold fully assembled) and Mark 1 frame brake cylinders on an exchange basis. GWC108 and GWC109.
In addition we carry stocks of all consumable brake parts. We can also supply master cylinders, Mark 2 rear wheel brake cylinders, all types of brake shoes, springs, cables and hoses and pedal rubbers. We have replacement (copper) brake pipe sets which are made for the club at below market prices. We also have replacement (copper) fuel pipe and fittings from the same supplier.
FRONT SUSPENSION/STEERING

We supply from stock: king pin sets and offer an exchange stub axle reaming service. Also exchange wishbones, exchange Mark 2 anti-roll bar drop links, exchange lever arm dampers, all fulcrum pins, all rubber bushes and buffers and wheel bearings.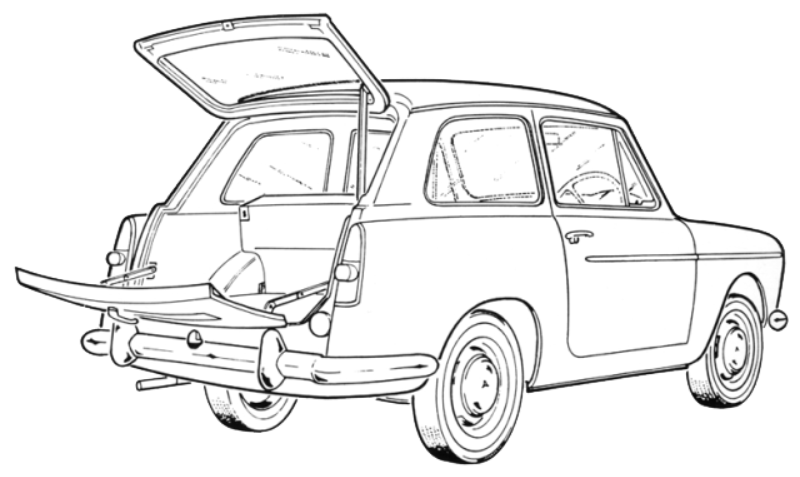 OTHER PARTS

Replacement rear view mirror glasses made to our specification.
Mark 1 window glass blocks.
Just too many parts to list!